When the Weather Is Fine (2020) Information
Drama: When the Weather is Fine (English title) / If the Weather Is Good, I'll Find You (literal title)
Revised romanization: Nalssiga Joeumyeon Chajagagesseoyo
Hangul: 날씨가 좋으면 찾아가겠어요
Director: Han Ji-Seung
Writer: Lee Do-Woo (novel), Han Ga-Ram
Network: JTBC
Episodes: 16
Release Date: February 24 - April 21, 2020
Runtime: Mon & Tue 21:30
Genre: Romance
Language: Korean
Country: South Korea
"When the Weather is Fine" takes over JTBC's Monday & Tuesday 21:30 time slot previously occupied by "Drama Festa: Hello Dracula" and followed by "Recipe for Happiness" on May 18, 2020.
Based on novel "Nalssiga Joeumyeon Chajagagesseoyo" by Lee Do-Woo (published June 28, 2018 by Sigongsa).
First script reading took place October, 2019 at JTBC Building in Sangam, Seoul, South Korea.
3 character posters for drama series "When the Weather is Fine."
4 still images from drama series "When the Weather is Fine."
To prevent the spread of COVID-19 and have a safe filming site, ep.5 & 6 will not air on March 9th and 10th and instead air on March 16th and 17th, 2020.

When the Weather Is Fine (2020) Plot

A story about forgiveness, healing, and love taking place around a small book store in the countryside. Hye-Won (Park Min-Young) is an ordinary woman with good character. She has played the cello since she was a child. Hye-Won began her social life with her ability to play the cello, but, during that time, she was hurt emotionally by others. Due to that, Hye-Won does not trust people and she has closed her heart to others. Hye-Won becomes sick and tired of her life in Seoul and decides to move back to her hometown Bookhyun Village. There, Hye-Won meets Eun-Seob (Seo Kang-Joon). He runs the bookshop "Goodnight Bookstore." Eun-Seob's daily life is simple. He wakes up and drinks coffee, reads a book and writes on his blog. Eun-Seob's daily life begins to change after he meets Hye-Won.

Comments on When the Weather Is Fine (2020)

"Eating and sleeping well... Is that all there is to life?"
This is the therapy that I didn't know I desperately need.
Every morning is the beginning of another busy day in my city life, so hectic that it often feels like suffocation is no longer an option. Yet, When the Weather is Fine is like a timely letter to my subconsciousness, telling it that it's alright to miss a couple of breaths but not too many. Following Hae Won and Eun Seub's journey to self-discovery and self-healing has been heartwarming, endearing and even motivational at times, especially amidst the current uncertain and relentless worldly affairs.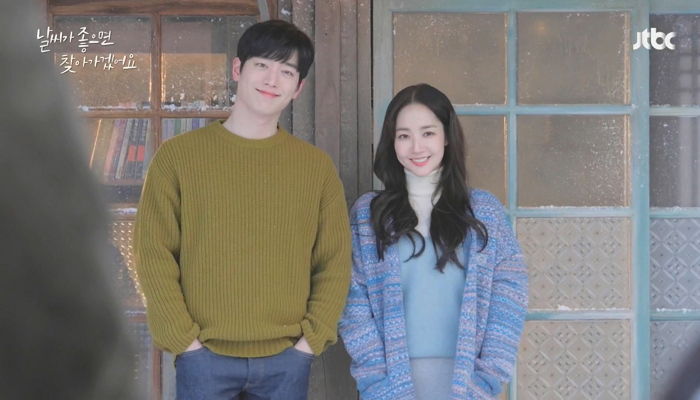 Despite the slow progression, much slower than what I would normally prefer, this drama never fails to captivate me with its beautiful and soothing storytelling. What appears to be a purely coincidental and mundane encounter between two almost complete strangers at first gradually materialises into a fated serendipity. As Hae Won spends more time with Eun Seub in the rural Bookhyun Village, we as an audience begin to delve into their memories through a collection of nostalgic flashbacks, gaining a bit more insight into each of their dilemmas and how that has led them to their current circumstances.
It turns out that, for the impatient person that I am, I didn't mind the slow pace at all as it has given me the time to sympathise with the characters' underlying emotions and appreciate all of the poetic essence in the script. The settings and soundtracks are incredibly complementary to the storyline and characterisation. From the occasional pleasant acoustics to playful tunes, or the alternating warm and cold colour schemes, the drama is able to integrate its audience into a serene and cozy countryside lifestyle while still manages to retain some of its unique charms.
To say I'm in love with the casting would be much of an understatement. It is a rather pleasant surprise to see Park Min Young venturing into the slice-of-life scene after starring in popular rom-coms such as What's Wrong With Secretary Kim and Her Private Life. I feel like it has become a more apparent trend for Hallyu actors to take on indie projects and introduce more diversity to the international drama community, notably Lee Jong Suk in Romance is a Bonus Book and The Hymn of Death and Park Seo Joon in the recent Itawon Class. I must say this is a fairly defining role for Seo Kang Joon. I first got to know him as the defiant yet caring second male lead in Cheese in the Trap and then it was the robotic but humane male lead in Are You Human Too, both of which have left a fond impression on me. So coincidentally meeting him again in my new favourite drama certainly feels like a treat. As a couple, Park Min Young and Seo Kang Joon show a rather unlikely chemistry, probably due to the fact that Min Young is such a veteran and me used to recall her role in Sungkyunkwan Scandal, but still very fitting nevertheless. I also thought the supporting cast is very well-chosen, especially Eun Sub's sister Im Hwi and best friend Jang Woo.
I would highly recommend checking out the divine and enchanting OSTs: Like a Winter's Dream (Kwak Ji Eon), Doors of Time (Jungyup), All Day Long (Kyuhyun), Dear My Love (Byul), I See You (Giryeon) and Moody Night (Jeong Sang Keun).
Here are some of my favourite excerpts from the drama...
"Life has never bought me a drink. On many winter nights, at a snack stall in a dead-end alley, I emptied out my pockets to buy life a drink. But life has never bought me a single drink. Whether it was a snowy day or a day when a stone lotus flower silently bloomed and fell." A Drink by Jeong Ho Seung
"When loneliness meets loneliness and becomes coziness. When sadness meets sadness and becomes happiness. When a cool breeze collides against another cool breeze and becomes soft snow. That's what warmth is."
"When the Weather Is Fine" is listed as a slow-paced drama and a slow burn romance, but I want to be very clear that when they say slow they mean slooooooooow. I'm not usually a fan of stories that drag, but now that I completed the drama I see that this is one case where the pace actually adds to the storytelling. If you can handle it, keep watching and you will find yourself drawn into life in this small town during the winter and to spring, and all of it's quirky characters. You will also get to enjoy a love story with amazing chemistry. Once more of the story was revealed I went from boredom to an eagerness to see what would happen to these characters I grew to care about. That has a lot to do with the phenomenal cast.
This drama stars Park Min Young as Hae Won. Hae Won's POV is how we slowly (very slowly) get introduced to this town. She is cold, and super emo, so don't expect a completely lovable character, but I found her performance to be super realistic, and I empathized with her even when she frustrated me. I'm not surprised that she was so good (she's one of my favorites), but I am surprised that she had such great chemistry with Seo Kang Joon, who I initially thought was too young for her. They were perfectly matched from the very beginning, whether their scenes were awkward, cute, sexy, or intense. There is also a lot unsaid between them, and lots of staring , which would get old quick with lesser actors. I just loved how they played off of each other so well no matter the mood of the scene. Kang Joon also plays Eun Sub as mysterious so effortlessly but also showed awkward vulnerability in a way that made me fall in love with his character quickly and look forward to seeing him on screen, even if he was just making coffee (very slowly lol). This isn't your typical romance, but I think romance fans with patience will get the payoff of seeing a great love story between two loners struggling with their own complicated pasts. Warmth in this drama isn't just about the weather, it's about how they are able to warm each other emotionally, and that feeling between them is palpable. It also gets HOT at moments which I appreciate!
The rest of the cast truly is also amazing, and really makes the town feel 100% real. One good thing about the pace is that it gives time for the supporting cast to also be portrayed as complicated well-developed characters, whether I loved or hated them. So many of the supporting characters got me in the feels... Mom and Aunt in the matching sunglasses (my favorites), Eun Sub's parents and hilariously obnoxious little sister, The book editor, The frienemy, The book club, and goofy but reliable Lee Jang Woo... eventually I felt like I knew the whole town well, and along with the gorgeous shots of the scenery, it felt like a welcomed vacation from coronavirus quarantine. At times it was almost a PSA for social distancing (physically and mentally lol)!
As for the story, I do think it is well done, with great attention to detail when it comes to relationships, and even a bit of suspense, but I'd be lying if I said I wasn't struggling during the first episodes which mostly set the mood more than moving the story forward. It almost feels more like a stage play at some points. Still, it is definitely original and I had no idea where the story would lead, which was great, The music, while a perfect fit, also makes taking a nap during this drama very tempting. The Good Night Club confessional blog also felt a little much at times, although it does allow us to see more into Eun Sub's thoughts, especially about "Irene". For me, the pace picked up once Mom showed up, or at least there was much more focus on the overall story, and I no longer felt the urge to nap from then on. Not that the mood every really changes completely, the tone is moody and even calming throughout.
So, would I watch this again? I'm sure I will. I do think that now that I have connected to the characters and know what's going on, that the slow beginning would be more enjoyable the second time, and I'll no longer be confused by moments that didn't matter to me out of context. I still think some things could have been introduced or resolved in a way that dragged less, and maybe fewer flashbacks initially, but I still respect the overall pace because of the mood and atmosphere it helped to create.
Overall, I was uncertain at first, but this may be the perfect drama to watch while stuck at home. Don't expect a lot of action, a major villain, or even melodrama, because this story is driven by relationships and character development. I did love the themes of healing through emotional warmth and affection, struggles with forgiveness, or even the comfort in expressing themselves at the multigenerational bookclub. To me, this was a wonderful love story but it also explored all the different ways love can look, even when it seems like love is not there. I laughed, I cried, I felt butterflies and wanted to scream at the screen at moments, so I would never call this drama boring as a whole. I recommend giving this drama a chance. It won't appeal to everyone, but the slow but steady vibe definitely won me over!
Watch the full episode of kdrama series When the Weather Is Fine (2020) on XeMovie.com