### About Series "It Started with a Kiss (2005)"
After an earthquake destroys Xiang Qin's house, she and her father move in with the family of her father's college friend, Uncle Ah Li. To her surprise, the kind and friendly aunt and uncle are the parents of her cold and aloof classmate Jiang Zhi Shu, a genius with an IQ of 200, whom she not long ago denied her boundless love for him. Will proximity give her a second chance to win Zhi Shu's heart? Or, will her love for him end under his cold words? What happens when there is competition for his heart?
Related Content
They Kiss Again (Taiwanese sequel)
Itazura na Kiss (Japanese adaptation)
Playful Kiss (Korean adaptation)
Itazura na Kiss: Love in Tokyo (Japanese adaptation)
Kiss Me (Thai adaptation)
Miss in Kiss (Taiwanese adaptation)
Mischievous Kiss The Movie: High School (Japanese adaptation)
Fall in Love at First Kiss (Taiwanese adaptation)
It Started with a Kiss (2005) also Known As: O Tso Chu Chih Wen , E Zuo Ju Zhi Wen , 惡作劇之吻
Drama: It Started with a Kiss
Country: Taiwan
Episodes: 30
Aired: Sep 25, 2005 - Feb 12, 2006
Main Actors:
Ariel Lin as Yuan Xiang Qin
Joe Cheng as Jiang Zhi Shu
Jiro Wang as Jin Yuan Feng / "Ah Jin"
Tiffany Hsu as Pei Zi Yu
Cyndi Chao as Jiang Zhao Zi [Zhi Shu's mother]
Zhang Yong Zheng as Jiang Wan Li [Zhi Shu's father]
Action Tang as Yuan You Cai [Xiang Qin's father]
Zhang Bo Han as Jiang Yu Shu [Zhi Shu's brother]
Petty Yang as Lin Chun Mei [Xiang Qin's friend]
Chiago Liu as Liu Ya Nong [Xiang Qin's friend]
Jason Wang as Wang Hao Qian
Bianca Bai as Bai Hua Lan
Chen Bo Zheng as Kong Ling Yang [High school principal]
Nikki Hsieh as Pei Zi Qi [Zi Yu's sister]
Aaron Yan as Ah Bu [Chun Mei's boyfriend]
Sean Lee as Chang Wu Ren
Director Actors:
Chu Yu Ning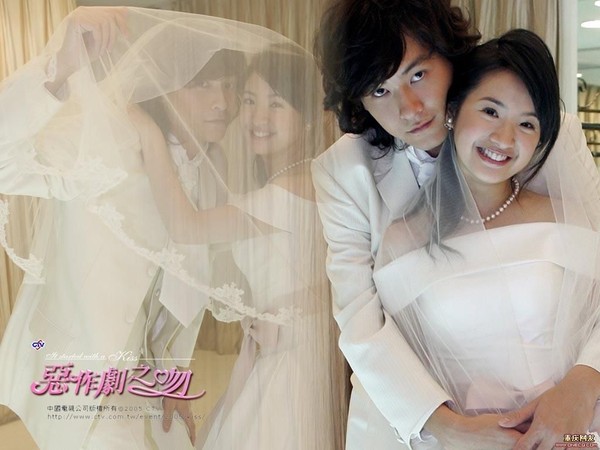 Watch free on: Xemovie.com.
#Review:
1) The reason I watch this: I didn't know that Taiwanese dramas existed until I watched this series. I'm a big fan of "Itazura Na Kiss": I read the manga, watched and absolutely loved the anime then I watched all the TV adaptations; This is the last incarnation that I see.
2) Plot / Plot: This series has the closest adaptation to the manga; it's literally without much change. It's the loyalty that makes it so interesting.
3) Acting/Actor: Like I said before this was my first Tw drama so I wasn't familiar with the cast back then but I loved the acting plus the supporting roles were super awesome along with all the side stories.
4) Music: I don't really remember the track well but I think it's very good.
5) Rewatch value: one of the fewest TV series that I watch again and again from time to time. If you watch TV series again, you will definitely watch this series again.
6) The End: It's a super cool genre that everyone wants to watch when they watch a drama but I wouldn't consider it "The End" because there's already a second season.
7) Overall: I don't like the Chinese language but when I watched this movie, I completely forgot about my dislike and focused on the story. Basically, if you are a fan of Itazura na kiss, you must watch this.