ABOUT SERIES "AMAZING SISTERS"
Amazing Sisters is a Chinese historical romantic drama directed by Ding Pei.
Amazing Sisters was released on September 19, 2021.
AMAZING SISTERS SYNOPSIS
Hualing City's top florist is the Qian family. Qian Jin Jin chases the young master of the Yan family to beg for his hand in marriage in order for their family to become a royal merchant. Qian Bao Bao, her fourth sister, is eager to assist and offers to marry the young master's uncle. Two sisters marry their uncle and nephew, resulting in a huge disaster.
The "Five Beauties of Qian" are the five sisters of the Qian family, which is regarded as the wealthiest in the capital. Each sister has a distinct task to fulfill. The eldest and most powerful individual in the group, Qian Jin Jin, is concerned with making money. Qian Yin Yin, the second sister, is a well-known socialite with her top visuals. Qian Zhu Zhu, the third sister, is a superb martial artist. Qian Bao Bao, the fourth sister, is adorable and sweet. The resident troublemaker is the sixth and youngest Qian Bei Bei.
Qian Jin Jin's audacious move to seek Yan Yaoyu as president of the Chamber of Commerce becomes a great sensation. Yan Yao Yu, the capital's most attractive guy, believes Qian Jinjin fell in love with him because of his appearance. He had no idea that Qian Jin Jin was chasing imperial qualifications for her business, which she could obtain through their union.
Qian Jin Jin sends Yan Yao Yu their divorce papers as soon as she achieves her aim! Yan Yao Yu, who has lost face as a result, determines that the only way to regain face is to reclaim his wife. Qian Bao Bao does not want to see her older sister give up her happiness for the sake of a quickie marriage. As a result, she secretly asks Yan Yao Yu's uncle, Yan Qi, the Yan family's patriarch, to marry her.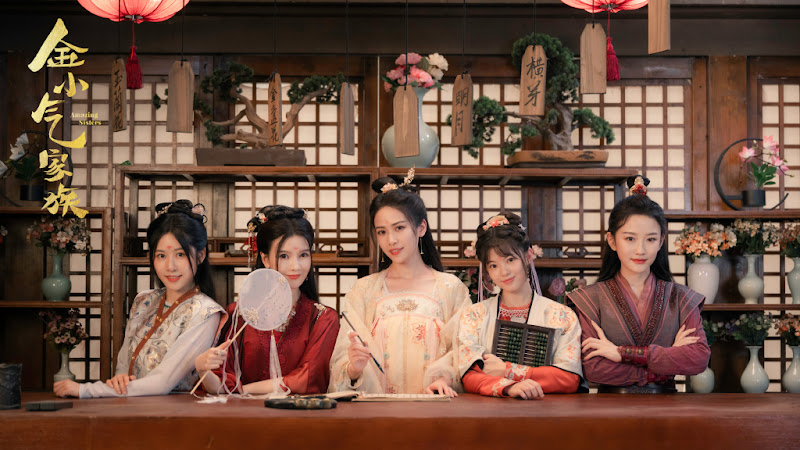 AMAZING SISTERS CAST
Liu Mei Tong as Qian Jin Jin

Wen Li as Yan Yao Yu

Guan Chang as Qian Bao Bao

Wen Yu Qi as Qian Yi Yi

Ni Han Jin as Yan Qi

Han Yu Tong as Qian Zhu Zhu
NOW YOU CAN WATCH AMAZING SISTERS ENGLISH SUB ONLINE AND FREE ON XEMOVIE.COM