A Korean Odyssey (2017) Information
Drama: A Korean Odyssey
Revised romanization: Hwayuki
Hangul: 화유기
Director: Park Hong-Kyun, Kim Jung-Hyun, Kim Byung-Soo
Writer: Hong Jung-Eun, Hong Mi-Ran
Network: tvN
Episodes: 20
Release Date: December 23, 2017 - March 4, 2018
Runtime: Sat. & Sun. 21:00
Genre: Fantasy
Language: Korean!
Country: South Korea
"Hwayuki" takes over tvN's Sat. & Sun. 21:00 time slot previously occupied by "The Most Beautiful Goodbye" and followed by "Live" on March 10, 2018.
Drama series is a reinterpretation of classic Chinese novel "Journey to the West," set in the present day and having a romantic-fantasy twist.
Park Bo-Gum was offered a lead role, but declined.
First acting role for Lee Seung-Gi since being discharged from the military on October 31, 2017.
First script reading took place November 4, 2017.
First still images of Cha Seung-Won and Lee Seung-Gi in tvN drama series "A Korean Odyssey."
Ep.2 of "A Korean Odyssey" originally aired on Saturday, December 24, 2017, but a few glitches appeared. tvN re-aired ep.2 on Sunday, December 25, 2017 at 6:10 PM without the CG errors appearing.
Ep.3 of tvN drama series "A Korean Odyssey" airs Saturday, January 6, 2018, one week later than originally planned, to ensure a safer working environment. On December 23, 2017, a crew member fell about 3 meters (10 feet) while hanging a chandelier on the ceiling at the filming set. He was sent to the hospital and diagnosed with paralysis of his lower body.

A Korean Odyssey (2017) Plot

In 2017, Son Oh Gong and Ma Wang are in conflict with each other as they look for a true light in a dark world where evil thrives. Having made a contract with Seon Mi 25 years ago, entitling her to seek help from Son Oh Gong whenever she calls him in exchange for letting him free, the two meet again in a fateful encounter. From there, Son Oh Gong is bound to his protective role towards Seon Mi, the little girl he had met years ago.
Adapted from the classic Chinese novel "Journey to the West," but reinterprets the story into the present day and has a romantic-fantasy twist.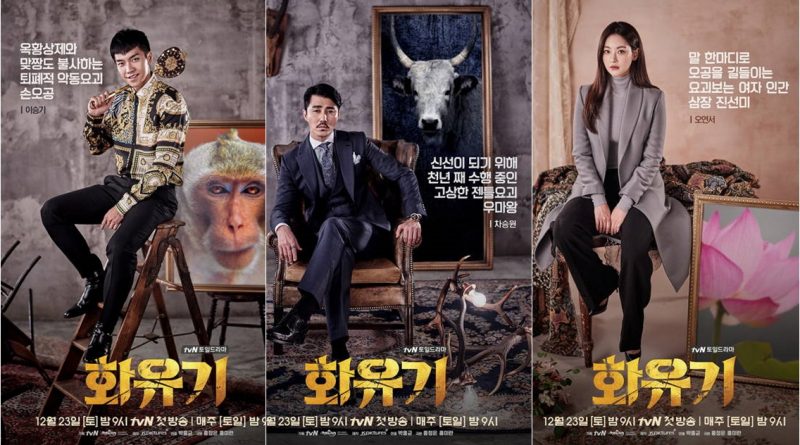 Comments on A Korean Odyssey (2017)
"MAY CONTAIN SPOILERS So far I'm on episode 7 and the drama is going pretty well BUT there is one character that is annoying and that is Seon Mi. Why? Because she keeps pushing and pulling him. Like honestly he's a fricking monster, his original goal was to eat her, but instead she put that bracelet on him, knowing what the consequences will be when it's put on him. And yet she's annoyed because he likes her uncontrollably? U know I don't support him eating her, but if I were in his shoes and had to be practically locked up again I would be pissed off ngl. Not only that, she literally spends so much time thinking about if he truly likes her or not, tbh partially of his feelings are all fake and she knows it. Oh and she always says something like "stop coming near me and leave" he leaves and she's sad... like WHAT? girl u just told him to shut up and leave. AND whenever she goes "fight" a monster, she always goes by herself, like girl what are u gonna do with a yellow kiddy umbrella and beads. Also I know like it's scary to encounter a ghost but for someone who has lived with them for her whole life, I'm surprised she's still scared of them, I mean I've seen plenty of ghosts before but I kinda got used to them. Not only that I feel like she always creates a bubble where everything that's happening is going smoothly, but when someone says a bold honest truth to her, it breaks, and she would get sad and question about her whole feelings again. Anyways I'm only episode 7 and I Really want to drop this drama, although I really like these type of dramas and how the plot suites my preferences. I'm sorry if anyone got offended or didn't like what I said, honestly this is my opinion on how I feel about it. but yeah thanks for reading up to here."
"I think it's fair to say that this drama was good overall: the story is intriguing, well written for the first 10 episodes and it made me curious. If I can say something bad about it, I'd have gone for a shorter version. 20 episodes are too many, since part of the story (expecially from episode 14) was just fillers. I'd rather watch 10 very good episodes than 20 just for the sake of carrying it on. The ending it's not that bad, but it's way too predictable: if you're not into open endings, just forget about this drama. Onto the good stuff:
Lee Seung Gi is just gold in this series, I cannot think of anybody else for the role of Son Oh Gong. Same goes for Cha Seung Won (Ma Wang) and Sung Hyuk (General Frost).
Soundtrack is Bomb: "Let me out" is a hit, was stucked in my head for weeks, as well as "If You Were Me" and "When I Saw You".
I loved the fact that supernatural elements, history and human nature are intertwined in the love story: it makes it really special.
I don't particularly like Oh Yeon Seo, but i loved the first 5 episodes because of the tension between the two leads.
Lee El (Secretary Ma) is one of the most underrated character, imho, but I loved her a lot.
I don't think I'd rewatch this, cause it's too painful now (i didn't enjoy the ending) and also because of the dragged out part (13-17), but It was definitely worth my time."
Watch the kdrama series A Korean Odyssey (2017) also known as Hwayugi full episode on XeMovie.com