ABOUT THE MOVIE TOLKIEN
As young children being raised by a single mother, J. R. R. Tolkien and his brother receive help from a local priest, Father Francis, who must relocate them from their home to small apartments in Birmingham due to financial hardships. Their mother is supportive and loving, filling their minds with stories of adventure and mystery which she recites by the fireplace at night. She becomes ill, however, and one day upon returning home from school, Tolkien finds her slumped in her chair, dead. Father Francis becomes the boys' legal guardian, and eventually finds a kindly rich woman who agrees to take them in, providing them with room and board while they continue their childhood education. There, Tolkien meets Edith Bratt, the woman's only other ward. Tolkien is taken with Edith, whose piano playing he admires, and the two become friends.
At school, Tolkien immediately shows talent with languages, earning rough treatment from a rival classmate, Robert. When the two boys get into a fight, the headmaster—Robert's father—orders that they spend all of their time together for the remainder of the term. While both initially resent the assignment, Tolkien is soon accepted into Robert's small circle of friends, and the four—J. R. R., Robert, Geoffrey, and Christopher – form a close friendship, which grows with the years, even as they attend separate universities. Meanwhile, Tolkien continues his friendship with Edith, falling in love with her. Father Francis finds out about their relationship and recognizes that it is affecting Tolkien's grades, and so forbids him from pursuing her while under his guardianship. Tolkien is distraught, not wanting to lose the priest's financial support of his schooling. He relates the conversation to Edith, promising they will be able to be together when he reaches 21, the age of majority, but she instead ends the relationship.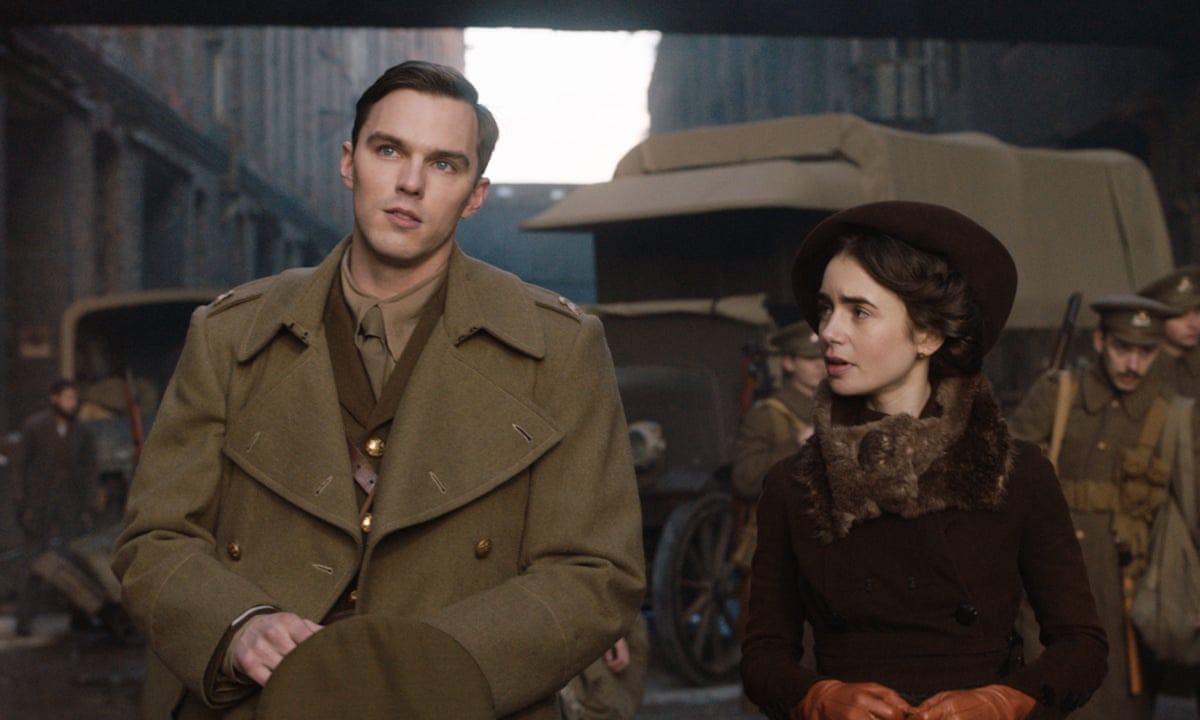 MAIN CAST OF THE MOVIE TOLKIEN
Nicholas Hoult as J. R. R. Tolkien
Harry Gilby as young J. R. R. Tolkien
Lily Collins as Edith Bratt, the lifelong love and later wife of Tolkien, who served as inspiration for the characters Lúthien Tinúviel and Arwen Evenstar
Mimi Keene as young Edith Bratt
Colm Meaney as Father Francis Morgan, a Roman Catholic priest and former protege of Cardinal John Henry Newman, who served as Tolkien's guardian and father figure
Derek Jacobi as Prof. Joseph Wright
Anthony Boyle as Geoffrey Bache Smith, an aspiring poet, and the closest of Tolkien's friends
Adam Bregman as young Geoffrey Smith
Patrick Gibson as Robert Q. Gilson, an outgoing and charismatic classmate of Tolkien's
Albie Marber as young Robert Q. Gilson
Tom Glynn-Carney as Christopher Wiseman, an aspiring composer
Ty Tennant as young Christopher Wiseman
MORE INFORMATION ABOUT MOVIE TOLKIEN
Tolkien is a 2019 American biographical drama film directed by Dome Karukoski and written by David Gleeson and Stephen Beresford. It is about the early life of English professor J. R. R. Tolkien, author of The Hobbit and The Lord of the Rings, as well as notable academic works. The film stars Nicholas Hoult, Lily Collins, Colm Meaney, and Derek Jacobi.
Tolkien was released in the United Kingdom on May 3, 2019, and in the United States on May 10, 2019, by Walt Disney Studios Motion Pictures through its division Fox Searchlight Pictures, and was the first feature film released after the acquisition of 21st Century Fox by Disney. The film received mixed reviews from critics and grossed $9 million worldwide on a $20 million budget.
NOW YOU CAN WATCH THIS MOVIE TOLKIEN ONLINE AND FREE ON XEMOVIE.COM