ABOUT THE MOVIE THE TWO POPES
In April 2005, Cardinal Jorge Mario Bergoglio, the Archbishop of Buenos Aires, is called to Vatican City after the death of Pope John Paul II to elect a new pope. German Cardinal Joseph Ratzinger is elected Pope Benedict XVI; Bergoglio receives the second-highest vote count. Seven years later, the Catholic Church is embroiled in the Vatican leaks scandal, and Benedict's tenure has been tainted by public accusations regarding his role in the coverup.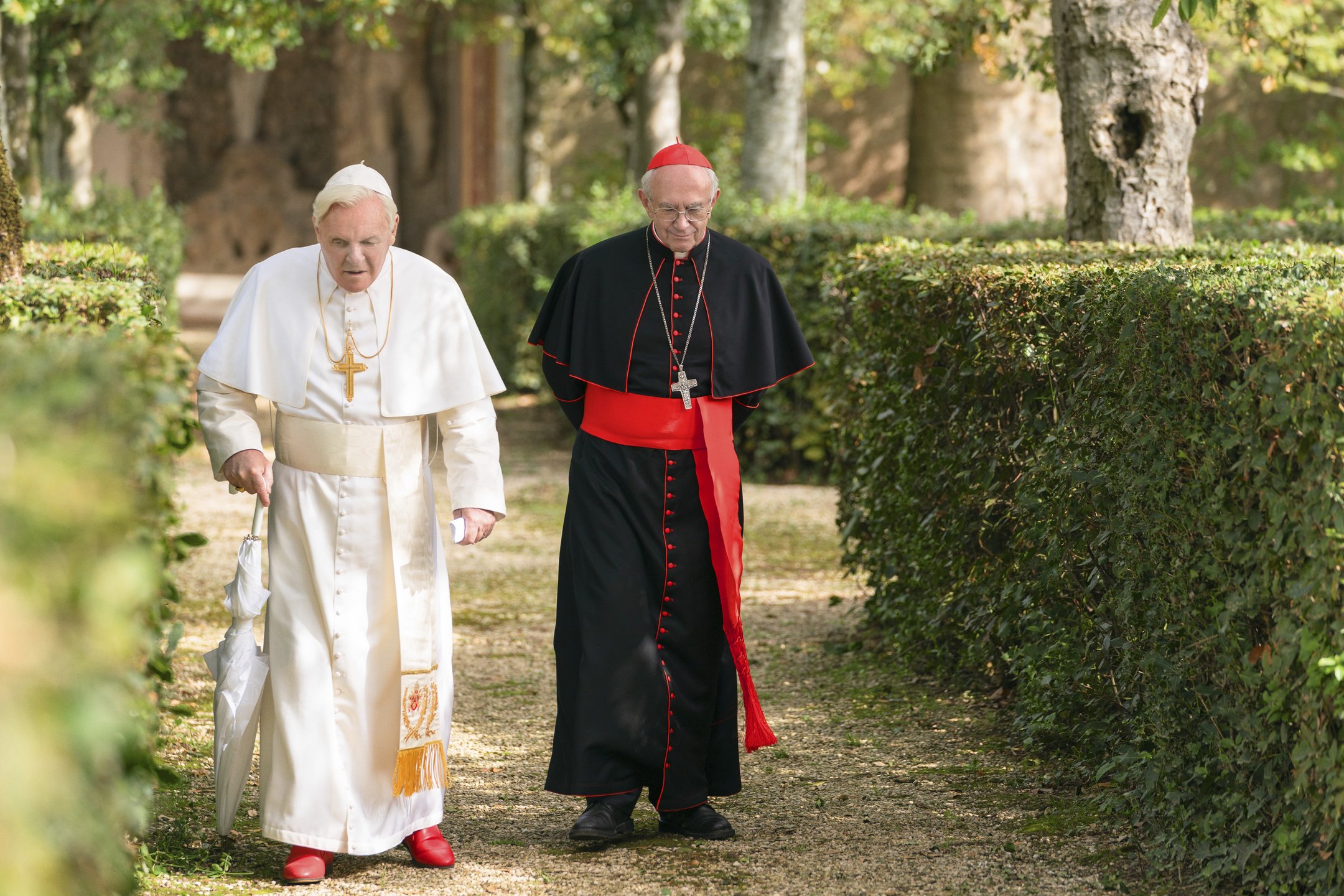 Bergoglio has submitted his resignation as archbishop, but the Vatican has not responded. As he prepares to go to Rome and personally deliver his resignation, he is summoned to Vatican City. Bergoglio and Benedict meet at the Palace of Castel Gandolfo, the Pope's summer residence. The two debate the roles of God and the Church. Benedict recounts what led him to the priesthood and talks about his interests. The two watch Benedict's favorite TV show, Kommissar Rex, which further delays their discussion about Bergoglio's resignation.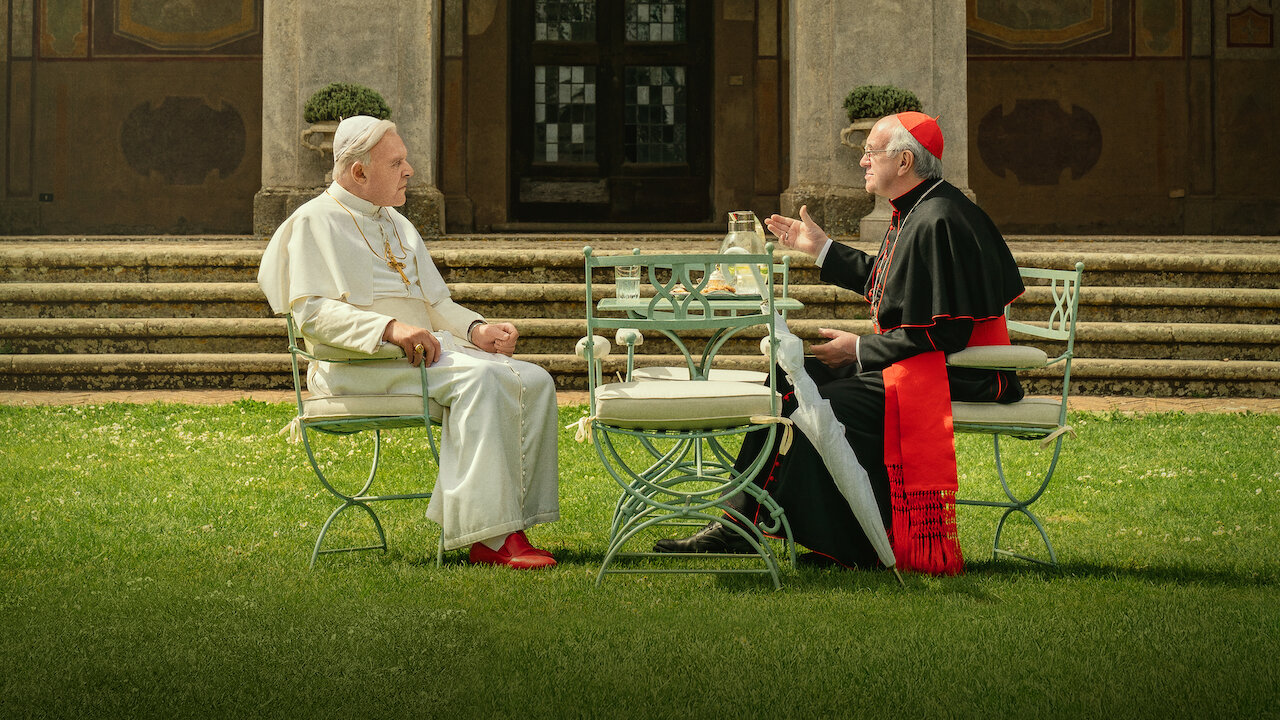 Bergoglio recounts his early life and path into the church. He ended his marital engagement and joined the Jesuits. He was met by Father Franz Jalics and Father Orlando Yorio, who become his spiritual friends. Benedict rejects Bergoglio's resignation, saying the world would perceive it as a vote of no confidence in his leadership and weaken the Catholic Church. Benedict and Bergoglio put aside their differences and chat informally, gradually warming to each other.
MAIN CAST OF THE MOVIE THE TWO POPES
Jonathan Pryce as Cardinal Jorge Mario Bergoglio, the future Pope Francis
Juan Minujín as Young Jorge Mario Bergoglio
Anthony Hopkins as Pope Benedict XVI
Luis Gnecco as Cardinal Cláudio Hummes
Sidney Cole as Cardinal Peter Turkson
Lisandro Fiks as Father Franz Jalics
Maria Ucedo as Esther Ballestrino
Willie Jonah as Cardinal Arinze
Thomas D. Williams as The American Journalist
Achille Brugnini as Cardinal Martini
Federico Torre as Protodeacon Estévez
Germán de Silva as Father Yorio
Josello Bella as Admiral Massera
MORE INFORMATION ABOUT MOVIE THE TWO POPES
The Two Popes is a 2019 biographical drama film directed by Fernando Meirelles and written by Anthony McCarten, adapted from McCarten's play The Pope which premiered at Royal & Derngate Theatre in 2019.[3][4] Predominantly set in the Vatican City in the aftermath of the Vatican leaks scandal, the film follows Pope Benedict XVI, played by Anthony Hopkins, as he attempts to convince Cardinal Jorge Mario Bergoglio, played by Jonathan Pryce, to reconsider his decision to resign as an archbishop as he confides his own intentions to abdicate the papacy.[5]
The film premiered at the Telluride Film Festival on August 31, 2019. It began a limited theatrical release in the United States on November 27, 2019, and in the United Kingdom on November 29, 2019, and started digital streaming on December 20, 2019, by Netflix. The performances of Pryce and Hopkins, as well as McCarten's screenplay, received high praise from critics, and all three men received nominations for their work at the Academy Awards, Golden Globes and British Academy Film Awards.
NOW YOU CAN WATCH THIS MOVIE THE TWO POPES ONLINE AND FREE ON XEMOVIE.COM