The Bow (2005) Information
Movie: The Bow
Revised Romanization: Hwal
Hangul: 활
Director: Kim Ki-Duk
Writer: Kim Ki-Duk
Producer: Kang Young-Goo, Jang Suk-Bin, Jung Hee-Sub, Lee Hong-Suk, Kim Ki-Duk
Cinematographer: Jang Sung-Baek
Release Date: May 12, 2005
Runtime : 88 min
Genre: Drama / Arthouse
Country: South Korea
Language: Korean

The Bow (2005) Plot\

The film is about an old fisherman living in seclusion on a dingy boat, floating along the coast. The old man adopted a little girl from an early age, and "protected" her from the outside world.
At the time of the story in the movie, the little girl was 16 years old. In the film, the ambiguity of an almost incestuous relationship occurs between an old man and a young girl - he raised the child as his own, and rekindled his lust when the child grew up to be a teenager. . The old man asked her from time to time do not know, he loved her a secret way, take care of her and prepare for her wedding when she was 17 years old enough.
World of The Bow is a peaceful, sensitive and primitive world, almost completely isolated from the outside. The sea is a pure backdrop for characters who live a quiet life. Despite escaping the noise of normal society, but like in Kim Ki Duk's other films, the characters' inner feelings are still extremely strong, and the director always puts them in unusual events, the fierce challenge.
The vast and quiet world of the old man and the little girl comes alive every Sunday, when people from the mainland come to rent their boats to fish. During these Sundays, a handsome young man from the city - a student - appears and threatens the old man's dreams of a wedding. The young man with a lot of new things from the outside world attracted the girl, making her, for the first time, want to escape from the world of the old man.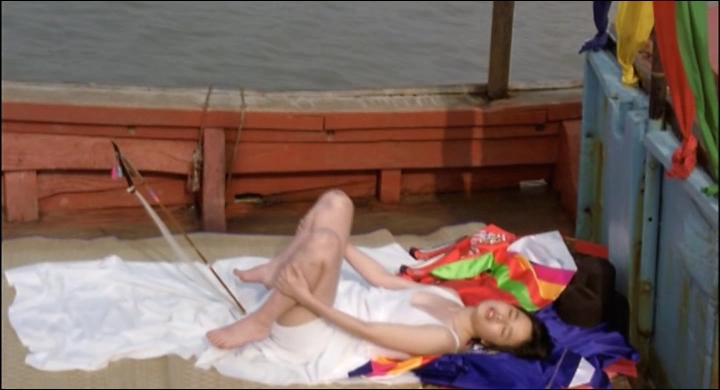 Throughout this strange story is an equally special character – a bow. The bow is a powerful weapon, helping the old man protect the little girl and his world from strangers from the outside. The bow was a tool for him to predict the future in a very strange way. The bow is at the same time a guitar, a soft thread that caresses his soul.
The bow is both firm and soft, powerful, conservative, and flighty, just like human nature. The appearance of this particular character gives the film another depth, a movement of Eastern consciousness.
In the movie, perhaps the bow is the "character" that is "talked about" the most. The other characters in the film are mostly silent. The old man, the little girl or the young man didn't talk much. Perhaps the details in the film themselves have revealed everything.
The Bow (2005) Cast
Jeon Kuk-Hwan - The Student's father
Kim Ik-Tae - Man 1
Jo Hyun-Woo - Man 3
Kong Yoo-Seok - guy 1
So Jae-Ick - guy 2
Jang Da-Kyung - gisaeng
Watch The Bow (2005) full movie on XeMovie.com