ABOUT THE MOVIE THE BOSS BABY: FAMILY BUSINESS
Set 40 years after the events of the first film, Tim Templeton is now fully grown and lives with his wife Carol and their two daughters, 7 years old Tabitha and infant Tina. Tim's younger brother Ted is now a successful CEO and is never around, instead sending lavish gifts to Tim and his family.
Tabitha is exhibiting more grown-up behavior, and one night while a discouraged Tim wonders about the person his daughter is becoming, he hears something from Tina's room. He discovers that Tina is a Boss Baby, just as Ted once was, and that she has been assigned to get Ted there for a special mission. Tim refuses to call, saying that he will never come, and encourages Tina to go back to sleep. However, Tina leaves a false voicemail for Ted, luring him to the Templeton's house.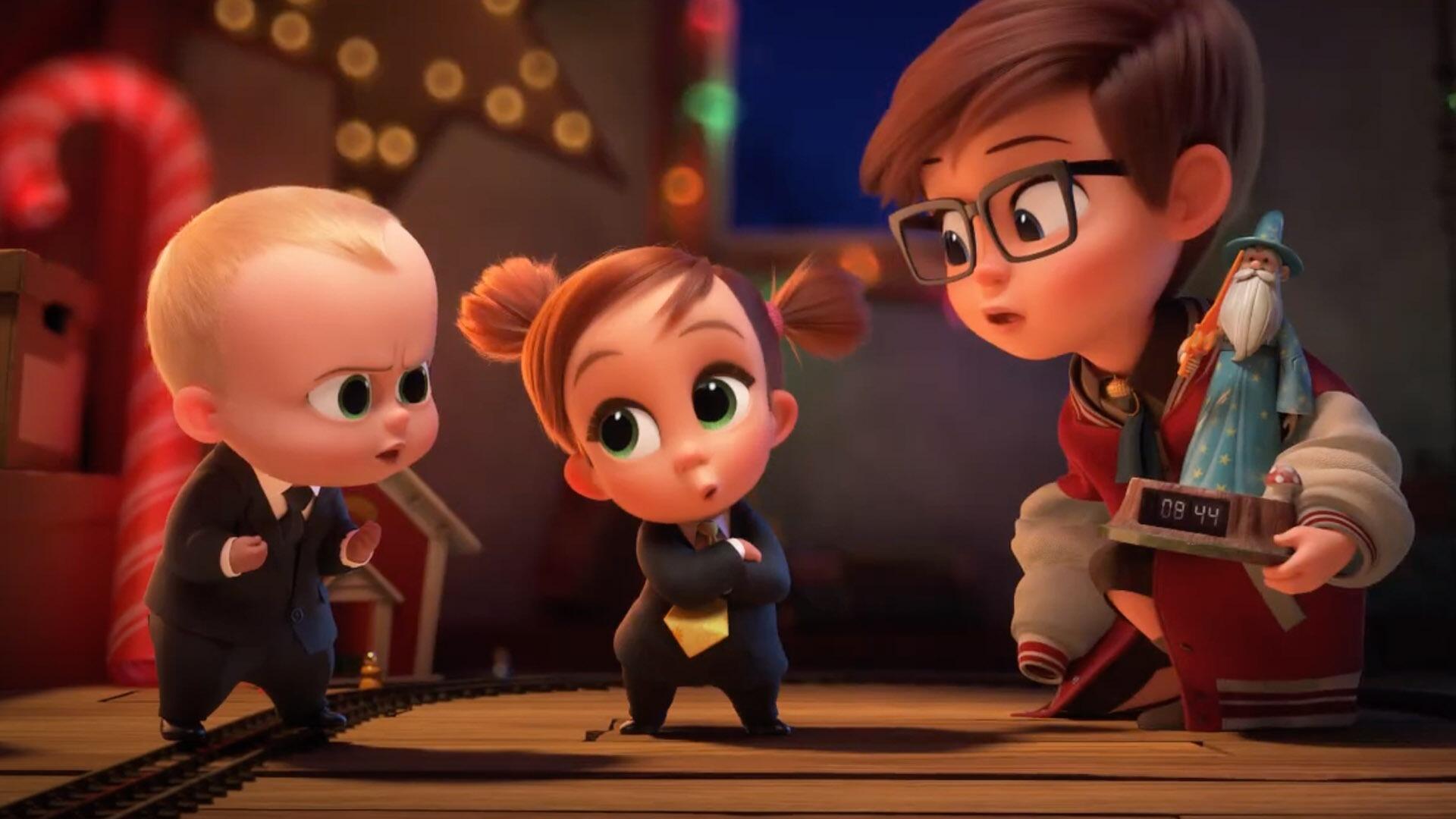 The next morning Ted arrives and Tim tries to explain him that Tina is a Boss Baby and Ted just does not remember that he was one, too. Tina reveals herself as a Boss Baby to Ted and gives them both magic pacifiers to visit BabyCorp. Tina introduces the brothers to a new formula that will allow them to turn back into children for 48 hours in order to go undercover to Tabitha's school and figure out what Dr. Erwin Armstrong, founder and principal of the school, is planning behind parents' back.
MAIN CAST OF THE MOVIE THE BOSS BABY: FAMILY BUSINESS
Alec Baldwin as Ted Templeton Jr. / Boss Baby, a former executive of BabyCorp, Tim's brother, Tina and Tabitha's uncle and Ted Sr. and Janice's son.
James Marsden as Tim Templeton, Ted's older brother, Carol's husband, Tina and Tabitha's father, and Ted Sr. and Janice's son. He was previously voiced by Tobey Maguire and Miles Bakshi in the first film, where Maguire voiced the adult Tim and Bakshi voiced the younger Tim.
Amy Sedaris as Tina Templeton / Boss Baby, an undercover executive of BabyCorp, Tim and Carol's younger daughter, Tabitha's younger sister, Ted's younger niece, and Ted Sr. and Janice's younger grandchild.
Ariana Greenblatt as Tabitha Templeton, Tina's older sister, Tim and Carol's highly intelligent elder daughter, Ted's elder niece, and Ted Sr. and Janice's elder grandchild. She was previously voiced by Nina Zoe Bakshi from the first film.
Eva Longoria as Carol Templeton, Tim's wife and mother of Tina and Tabitha.
MORE INFORMATION ABOUT MOVIE THE BOSS BABY: FAMILY BUSINESS
The Boss Baby: Family Business (known in other territories as The Boss Baby 2) is a 2021 American computer-animated comedy film loosely based on the 2010 picture book The Boss Baby and its 2016 sequel The Bossier Baby by Marla Frazee, produced by DreamWorks Animation, and distributed by Universal Pictures. The second installment in the The Boss Baby franchise and the sequel to the 2017 film, the film is directed by Tom McGrath, from a screenplay by Michael McCullers with a story by McGrath and McCullers, and stars the voices of Alec Baldwin, James Marsden, Amy Sedaris, Ariana Greenblatt, Jeff Goldblum, Eva Longoria, Jimmy Kimmel, and Lisa Kudrow. The plot follows the now-adult Templeton brothers (Baldwin and Marsden) who are brought back together after the new Boss Baby (Sedaris) requests their help to stop a professor (Goldblum) from erasing childhoods worldwide.
The film was theatrically released in the United States on July 2, 2021 in traditional and select RealD 3D and Dolby Cinema locations, by Universal Pictures; it also streamed on paid tiers of Peacock for 60 days. Like the first film, it received mixed reviews from critics, with praise for the humor but criticism for the writing.
NOW YOU CAN WATCH THIS MOVIE THE BOSS BABY: FAMILY BUSINESS ONLINE AND FREE ON XEMOVIE.COM