ABOUT THE MOVIE ROCKETMAN
Dressed in a flamboyant devil's outfit, Elton John enters an addiction rehabilitation session, recounting his life in a flashback ("The Bitch Is Back").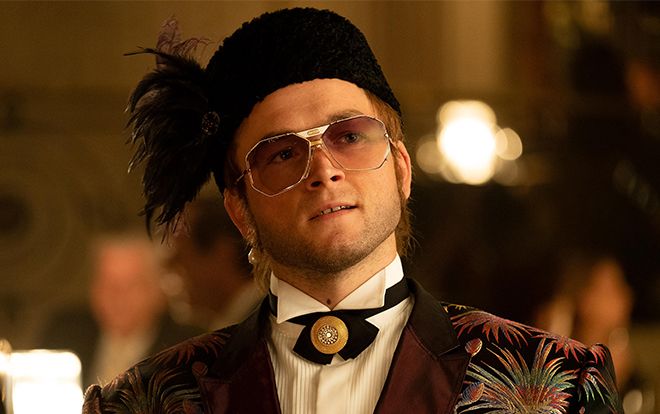 Reginald Dwight grows up in 1950s Britain, raised by his unaffectionate mother, Sheila, and more loving grandmother Ivy. Reginald is interested in music and hopes to perform for his father, Stanley, who takes no interest in his son ("I Want Love").
Reginald begins piano lessons, making his way into the Royal Academy of Music. Stanley abandons his family after Sheila has an affair. Reginald develops an interest in rock music and performs in local pubs ("Saturday Night's Alright for Fighting"). As an adult, Reginald joins the band Bluesology, which is hired to play backup for touring American bands, The Isley Brothers and Patti LaBelle and the Blue Belles ("Breaking Down the Walls of Heartache"). Isley Brothers lead singer Ronald Isley recommends Reginald write songs and put his old life behind him to become a famous artist. Reginald changes his name to Elton John, Elton being the name of the saxophonist of Bluesology, and John being adopted from John Lennon.
MAIN CAST OF THE MOVIE ROCKETMAN
Taron Egerton as Elton John
Jamie Bell as Bernie Taupin
Richard Madden as John Reid
Bryce Dallas Howard as Sheila Dwight
Gemma Jones as Ivy, Elton's grandmother
Stephen Graham as Dick James
MORE INFORMATION ABOUT MOVIE ROCKETMAN
Rocketman is a 2019 biographical musical fantasy drama film based on the life and music of British musician Elton John. Directed by Dexter Fletcher and written by Lee Hall, it stars Taron Egerton as John, with Jamie Bell as Bernie Taupin, Richard Madden as John Reid, and Bryce Dallas Howard as Sheila Eileen, John's mother. The film follows John in his early days in England as a prodigy at the Royal Academy of Music through his musical partnership with Taupin, and is titled after John's 1972 song "Rocket Man".
The film had been in development since the 2000s before it was announced in 2013 that Focus Features acquired the rights to the film and director Michael Gracey (who eventually served as executive producer) was attached to direct the film with actor Tom Hardy set to star. After both Hardy and Gracey left the project following creative differences between Focus and John that halted an initial production start in fall 2014, the project languished for several years until Paramount Pictures and New Republic Pictures took over as distributor in April 2018, where Egerton and Fletcher signed on. Principal photography began in August 2018 and was completed later that year. John served as executive producer, while his husband David Furnish produced the film through their Rocket Pictures, alongside Matthew Vaughn's Marv Films.
NOW YOU CAN WATCH THIS MOVIE ROCKETMAN ONLINE AND FREE ON XEMOVIE.COM