ABOUT THE MOVIE MOTHERLESS BROOKLYN
In 1950s New York City, Lionel Essrog works at a detective agency alongside Gilbert Coney, Danny Fantl, and Tony Vermonte. Their boss, Frank Minna, rescued them as children from an abusive orphanage. Nicknamed "Motherless Brooklyn" by Frank, Lionel has Tourette syndrome and OCD, often alienating him from people, but his strong verbal and photographic memory make him a good detective.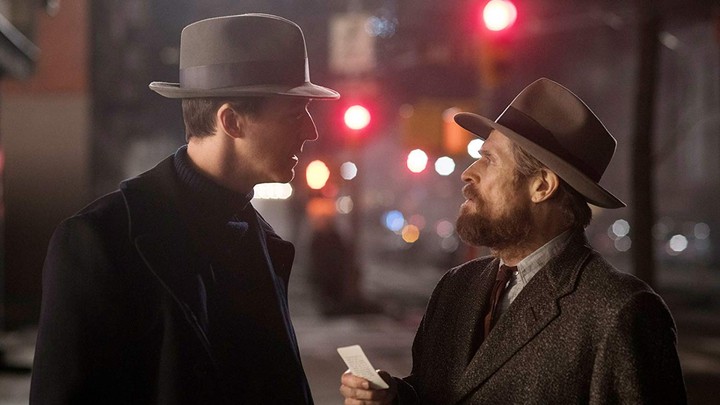 Working a secret case, Frank asks Lionel and Gilbert to shadow him to a meeting. Lionel listens over the phone as Frank presents documents that threaten a business deal for a man named William Lieberman, who's there with his assistant Lou and an extremely large henchman. When Frank tries to negotiate a high price, the men force him to take them to the originals. Lionel and Gilbert follow in their car, arriving just as Frank is shot. They take him to the hospital, but Frank dies.
Frank's widow Julia leaves Tony in charge of the office. Lionel begins wearing Frank's hat and coat, and a matchbook in Frank's pocket leads Lionel to an African-American owned jazz bar in Harlem. He realizes that Frank's findings involve Laura Rose, who works for Gabby Horowitz fighting urban renewal; poor and minority neighborhoods are being bought out and demolished, forcing out their residents. Lionel goes to a public meeting where Moses Randolph, a commissioner of several development authorities, is loudly contested by Horowitz and the audience. Stealing a reporter's credentials, Lionel talks to a man named Paul who was raging against Moses at the meeting and tells him Moses is the real power in the city government, even beyond the mayor.
MAIN CAST OF THE MOVIE MOTHERLESS BROOKLYN
Edward Norton as Lionel Essrog
Bruce Willis as Frank Minna
Gugu Mbatha-Raw as Laura Rose
Alec Baldwin as Moses Randolph
Willem Dafoe as Paul Randolph
Bobby Cannavale as Tony Vermonte
Cherry Jones as Gabby Horowitz
Michael K. Williams as Trumpet Man
MORE INFORMATION ABOUT MOVIE MOTHERLESS BROOKLYN
Motherless Brooklyn is a 2019 American neo-noir crime film written, produced and directed by Edward Norton, based on the 1999 novel of the same name by Jonathan Lethem. Set in New York City in 1957, the film follows a private investigator with Tourette syndrome, who is determined to solve the murder of his mentor. Along with Norton, the film also stars Bruce Willis, Gugu Mbatha-Raw, Bobby Cannavale, Cherry Jones, Alec Baldwin, Ethan Suplee and Willem Dafoe.
A passion project of Norton's ever since he read Lethem's novel in 1999, the film took nearly 20 years to go into production. The movie differs significantly from the book. Although the book is set in contemporary times, Norton felt the plot and dialogue lent themselves more to a noir setting — moving it to the 1950s, with many added plot points inspired by The Power Broker. Other members of the cast joined by February 2018, and principal photography began that same month.
The film had its world premiere at the Telluride Film Festival on August 30, 2019, and was released in the United States on November 1, 2019, by Warner Bros. Pictures. It received generally positive reviews from critics, with praise for Norton's performance and the film's ideas, but criticism for its length and deviations from its source novel. At the 77th Golden Globe Awards, the film received a nomination for Best Original Score.
NOW YOU CAN WATCH THIS MOVIE MOTHERLESS BROOKLYN ONLINE AND FREE ON XEMOVIE.COM