Monster (2014) Information
Movie: Monster
Revised romanization: Monster
Hangul: 몬스터
Director: Hwang In-Ho
Writer: Hwang In-Ho
Producer: Kim Min-Kyoung, Ahn Sang-Hoon
Cinematographer: Jung Yong-Gyeon, Kim Ki-Tae
Release Date: March 13, 2014
Runtime: 114 min.
Genre: Thriler
Distributor: Lotte Entertainment
Language: Korean
Country: South Korea
Filming began May 5, 2013 in a village in Chuncheon, South Korea. The first scene filmed involved Bok-Soon (Kim Go-Eun) deciding to take revenge and leave her house. Tae-Soo (Lee Min-Ki) arrives to an empty house.
Filming ended July 31, 2013.

Monster (2014) plot

Bok Soon runs a street stall while taking care of her younger sister. Not the brightest girl, but what she lacks in intelligence, she makes up for in uncontrollable rage. Her neighbors have dubbed her as the 'psycho bitch'. Soon's relatively peaceful life is disrupted when running afoul of serial killer, Tar Soo, who takes Soon's sister's life, believing she may have stumbled upon his murderous lifestyle. Consumed by rage, Soon cannot wait to exact her revenge upon Tae Soo, who is vowing to tie up his only loose end—her! Soon's descent into a quagmire of revenge and her electrifying struggle with Soo will culminate into a riveting conclusion. Who will emerge alive — the hot-blooded Soon or the cold-hearted Soo?

Comments on Monster (2014)

"Monster is one of my all-time favorite thrillers. Lee Min Ki delivers an amazing portrayal of a man who's mind just isn't right. Throughout the performance, you aren't sure if you love him or hate him, if you want to hug him and wipe away his tears or cut his throat before he can do more damage.
Kim Go Eun's character was hard for me to understand at first. Her single-minded purpose shone through until the very end. Bok Sun becomes the every-man's-heroine, who manages to fight for her personal justice despite her disability.
The gore value in this film is fantastic. My personal favorite is the chopsticks scene, which I highly recommend. I have watched this film several times, and it continues to thrill me, like my favorite roller coaster.
On top of all of that, the scenery is gorgeous, as it is set in a forested, rural area. The filmography was done beautifully.
I recommend this flick for lovers of the thrill. Lovers of blood. Lovers of psychotic evildoers and lovers of a good game of cat and mouse."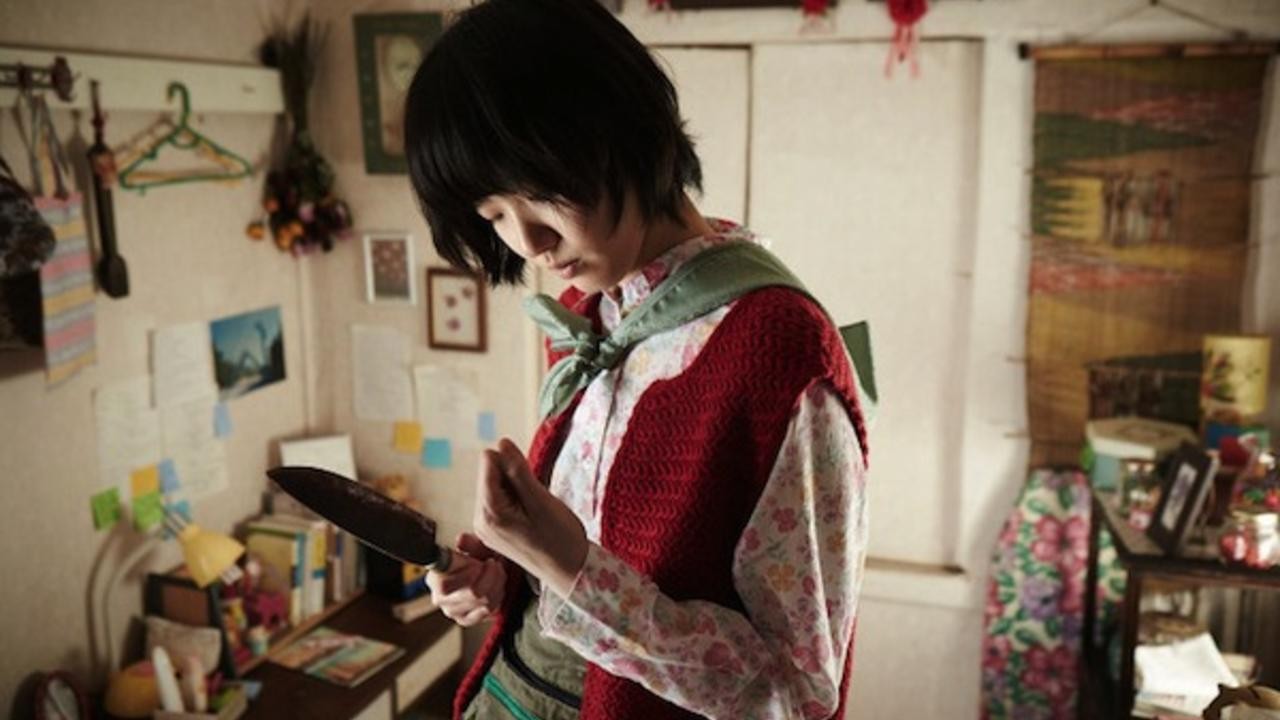 "This movie was very enjoyable, a little fast paced but a really good watch. I enjoyed the the cast and how they portrayed each character. Kim Ko Eun portrayed the violent, dim witted bok soon very well and surprisingly I wasn't annoyed by this character. And one has to the the portrayal of the psychotic tea soo played by Lee Min Ki, I was glad that he really came over as this crazed killer. I can't say that I really loved the end where Bok Soon really proves how stupid she is but the very end with Bok Soon singing that song."
Watch Monster (2014)