ABOUT THE MOVIE GAME NIGHT
Georgia in the 2010s, married competitive gamer couple Max and Annie are trying to have a child but their attempts are unsuccessful due to Max's anxiety surrounding his feelings of inadequacy when compared to his wealthy and suave brother Brooks. During Max and Annie's routine weekend game night with their friends Ryan, and married couple Kevin and Michelle, Brooks shows up in a Corvette Stingray (Max's dream car) and shares an embarrassing story about Max to throw him off during a game. Brooks offers to host the next game night at his home. Meanwhile, Max and Annie are trying to keep their game night secret from their neighbor Gary, a police officer left depressed after his divorce from their old friend Debbie.
When the guests, including Ryan's new date, Sarah, arrive at Brooks' house the following week, Brooks says he has initiated an interactive role-playing mystery game, promising the winner his Stingray. An actor enters and begins monologuing, but is interrupted when two masked men break in and kidnap Brooks. The guests believe the attack is part of the game, so they just watch as he is dragged away before beginning to solve the mystery game using the clues left behind by the actor.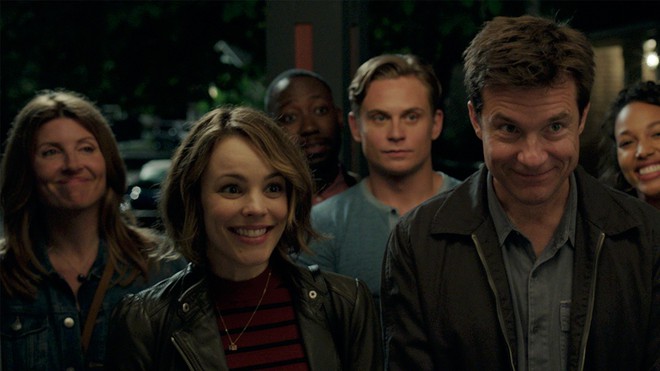 MAIN CAST OF THE MOVIE GAME NIGHT
Jason Bateman as Max Davis, Annie's husband.
Rachel McAdams as Annie Davis, Max's wife.
Billy Magnussen as Ryan Huddle, one of Max and Annie's friends.
Sharon Horgan as Sarah Darcy, Ryan's Irish co-worker and love interest.
Lamorne Morris as Kevin Sterling, Michelle's husband.
Kylie Bunbury as Michelle Sterling, Kevin's wife.
Jesse Plemons as Gary Kingsbury, Max and Annie's neighbor.
Chelsea Peretti as Glenda
Danny Huston as Donald Anderton
Michael C. Hall as The Bulgarian
Kyle Chandler as Brooks Davis, Max's brother.
MORE INFORMATION ABOUT MOVIE GAME NIGHT
Game Night is a 2018 American action comedy film directed by John Francis Daley and Jonathan Goldstein and written by Mark Perez. It stars Jason Bateman and Rachel McAdams, and follows a group of friends whose game night turns into a real-life mystery after one of them is kidnapped by apparent burglars. The film's supporting cast includes Billy Magnussen, Sharon Horgan, Lamorne Morris, Kylie Bunbury, Jesse Plemons, Michael C. Hall, and Kyle Chandler.
Warner Bros. Pictures released the film on February 23, 2018. It was a commercial and critical success, grossing $117 million worldwide and receiving praise for its originality, humor, script and performances. Plemons was nominated for the Detroit Film Critics Society Award for Best Supporting Actor.
NOW YOU CAN WATCH THIS MOVIE GAME NIGHT ONLINE AND FREE ON XEMOVIE.COM