ABOUT MOVIE "FAT BUDDIES"
Fat Buddies is a Chinese action comedy film directed by Bao Bei'er and produced by Abe Kwong Man-Wai and Peggy Lee, which was released in 2018. Bao Bei'er, Wen Zhang, Clara Lee, and Xu Juncong feature in the film. In China, it was set to be released on September 30, 2018. Bao Bei'er, a well-known Chinese actor, makes his directing debut with this film.
FAT BUDDIES SYNOPSIS
Fat Buddies follows a couple of big-boned, incompetent cops who find themselves in the middle of a drug trafficking investigation. During an A-level assignment, agent "J" was shot in the head, causing damage to the intracranial hypothalamus. During his rehabilitation, J grew into a three-hundred-pound hulk who suffered from acute narcolepsy, yet he still thought of himself as an ace agent. Finally, J was given the mission again, and he traveled to Japan to retrieve the classified information. After obtaining the file, J opened it at random and resolved to continue the duty of concealing the organization for the organization, but he passed out in the izakaya. J, who awoke in the hospital, met the security guard Handsome Hao, who courageously joined the mission to prove that he is not a waste of time. The temporary partner has repeatedly experienced the ludicrous and perilous time problem while carrying out the assignment.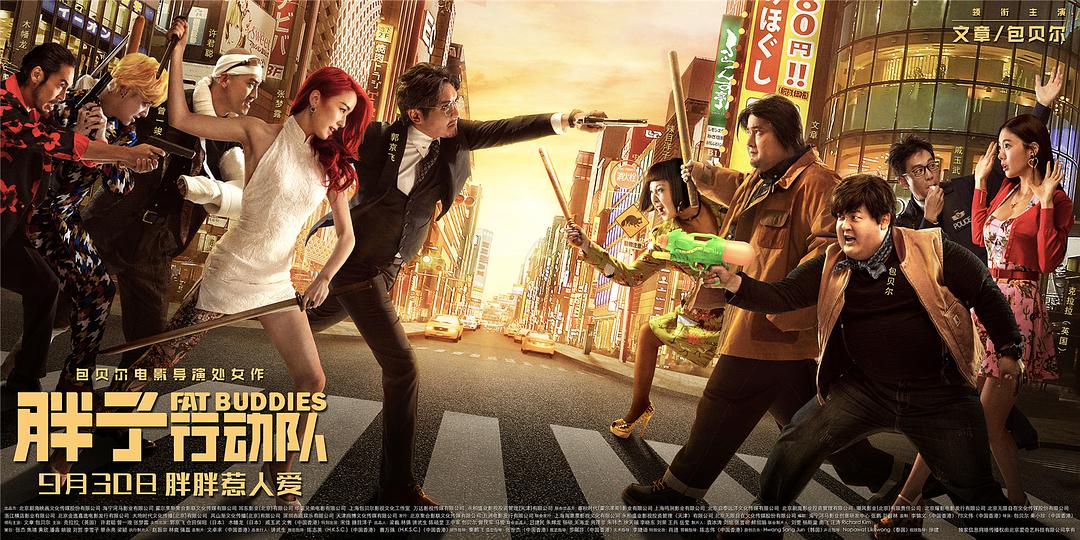 FAT BUDDIES CAST
Bao Bei'er as Hao Yingjun ("Handsome Hao"), a Sino-Japanese big-boned security guard at Northern Kanto General Hospital who helps Agent J in the mission to retrieve an important document.
Wen Zhang as Jia Jengjun/Agent J, a superspy that is considered the best in the world and is sent to Japan to retrieve an important document.
Clara Lee as Kin Shiyurin, the hot and young Japanese wife of Handsome Hao who works as a nurse at the same hospital as him.
Xu Juncong as F, one of top enforcers of Ma Tianyou
Zeng Yijun as K, one of top enforcers of Ma Tianyou
Zhang Menglu
Guo Jingfei as Ma Tianyou, a powerful magnate and philanthropist which at the same time is a dangerous big-time drug-dealer
Yasuaki Kurata as Northern Kanto General Hospital dean.
Ryu Kohata as an unnamed Yakuza boss.
Qi Yuwu
Manfred Wong
Song Jia
Li Jiaqi
NOW YOU CAN WATCH FAT BUDDIES ENGLISH SUB ONLINE AND FREE ON XEMOVIE.COM