ABOUT THE MOVIE 7 Days in Entebbe
The Air France flight 139 from Tel Aviv to Paris is hijacked by German and Palestinian terrorists in June 1976 after a stopover in Athens. The two Germans Brigitte Kuhlmann and Wilfried Böse, members of the Revolutionary cells, were previously with two men from the Popular Front for the Liberation of Palestine in a training camp in Yemen where they trained for this action and prepared not to show compassion. They deliberately hijacked an Air France plane because they accuse France of having helped Israel strengthen its army. Among other things, they want to free 40 Palestinians imprisoned in Israel. The hijackers force the captain to stop in Benghazi to refuel. From there, the aircraft can continue to fly undisturbed. Finally, the pilot is forced to land at the airport in the Ugandan city of Entebbe.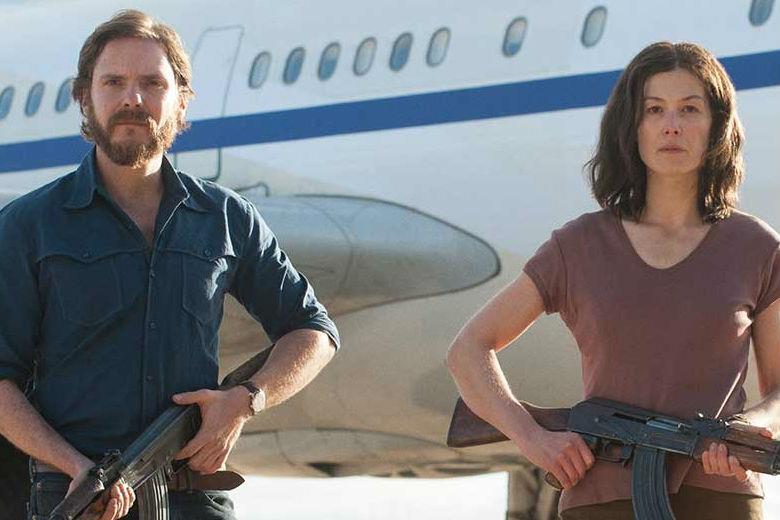 The next morning, the hostages are taken to an empty terminal at the airport. They are personally received by the president of Uganda, the dictator Idi Amin. He and his soldiers support the kidnappers. The two Germans guard the hostages while the Palestinians begin negotiations with Israel.
The Israeli Prime Minister Yitzchak Rabin, who is currently chairing a cabinet meeting in Jerusalem, receives a message informing him of the kidnapping and the fact that there are 83 Israelis on board. He and Secretary of Defense Shimon Peres learn from a British passenger that she was released because she pretended to be pregnant that two of the hijackers are German.
Peres advocates the use of the military, even if soldiers or hostages are killed in the process and diplomatic complications arise as a result. Rabin believes that it would be more prudent to negotiate, but sees no other way to maintain the raison d'etat and agrees.
MAIN CAST OF THE MOVIE 7 Days in Entebbe
Daniel Brühl as Wilfried Böse
Rosamund Pike as Brigitte Kuhlmann
Eddie Marsan as Shimon Peres
Lior Ashkenazi as Yitzhak Rabin
Denis Ménochet as Jacques Le Moine
Ben Schnetzer as Zeev Hirsch
Angel Bonanni as Yonatan Netanyahu
Nonso Anozie as Idi Amin
Juan Pablo Raba as Juan Pablo
Omar Berdouni as Faiz Jaber
Mark Ivanir as Motta Gur
Peter Sullivan as Amos Eran
MORE INFORMATION ABOUT MOVIE 7 Days in Entebbe
Entebbe[3] (titled 7 Days in Entebbe in the U.S.) is a 2018 action thriller film[2] directed by José Padilha and written by Gregory Burke. The film recounts the story of Operation Entebbe, a 1976 counter-terrorist hostage-rescue operation. The film stars Rosamund Pike and Daniel Brühl. It was released in the United States on 16 March 2018 and in the United Kingdom on 11 May 2018.
NOW YOU CAN WATCH THIS MOVIE 7 Days in Entebbe ONLINE AND FREE ON XEMOVIE.COM